Further Information

Shelly Beach Motel
Address:
510 The Esplanade, Shelly Beach, Hervey Bay
Telephone:
07 4128 9888

The Shelly Beach Motel is still owned and operated by the two sisters who grew up in Hervey Bay. We have now been here for 5 years and have made lots of improvements
We like to make everybody's stay a little bit personal and have made some firm friends amongst our guests.
The big sister, Teena, continues to make headway in the garden, battling the elements of living on the Esplanade, mainly salt spray and sand.
The Motel offers beautiful views of the tranquil waters of Hervey Bay from all rooms. They are self contained, individually decorated, with queen size beds and comfortable lounge chairs. Each room has its own private balcony or courtyard complete with a patio setting to enjoy the sunshine that Queensland is famous for.
As Shelly Beach Motel is at the quiet end of Hervey Bay, the peace and tranquillity takes over once you have unpacked. You can sit on the balcony and enjoy the spectacular sunsets and unwind with a cold drink. A short stroll takes you to the restaurants and shops, along the way you can gather the shells after which Shelly Beach was named.
Shelly Beach Motel offers:
Sea Views, self contained units, Airconditioning, free cable TV, Queen size beds, Direct dial telephones, boat parking, and tour booking assistance.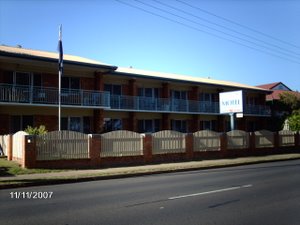 Categories: Accommodation
---