Further Information

Brolga Theatre
Address:
5 Walker Street, Maryborough
Telephone:
41226060
BROLGA THEATRE MARYBOROUGH QUEENSLAND
The Brolga Theatre was built at a cost of 11 million dollars as aregional theatre and convention centre for the Fraser Coast Region in Queensland. It opened in July 2000 as a project of Maryborough City Council. Designed by Brisbane Architect Bligh Voller Nield, it won the FDG Stanley Award for Public Buildings and the Queensland Architecture Awards 2001, Public Buildings Community Building Award, and was a finalist in the Royal Australian Institute of Architects National Awards.
Styled to reflect and celebrate the saw-mill that previously stood on the site, and the industrial heritage of Maryborough, it has a 919-seat modern auditorium with tiered seating, and a stage that measures 14.7 metres by 13 metres and the latest in technical equipment including
a 200-seat flat-floored multi purpose space;
a foyer designed to table seat 300;
a number of break-out spaces;
a computerised ticketing system; and
a licensed restaurant and an exceptional staff whose whole aim is to make events, however large or small, memorable and successful occasions.
The Centre is close to the Central Business District, next to the historical and beautiful Queens Park, close to accommodation, it contains wonderful art works both inside and out and is convenient to Fraser Island, Hervey Bay and to Maryborough's own unique and striking attractions.
There are other breakout areas that are ideal for workshops and brainstorming.
The Centre has established itself as a wonderful convention venue, with five main rooms:
the 919 seat main Auditorium with raked floor and comfortable lounge seating;
the 200 seat Federation Room, a flat-floored multi-purpose room that has innovative and exciting theatre space, the ability to hold exhibitions and the ideal spot for a medium-sized conference or, dinners and receptions;
the Foyer table-seats 300 and suits cabarets, civic receptions, trade shows, school formals, dinners and more;
the Conference Room - an intimate conference room that provides excellent facilities for meetings and seminars with breakout space catering for up to 20 persons; and
The Band Room - a small gathering area for rehearsals, dance warm-ups, and break-outs.
The complex is also fully air-conditioned and has modern technical support, including access to wide band internetand full bar facilities for our patrons. Built on a large property, the Brolga Theatre and Convention Centre boasts large landscapedgrounds with views over the Mary river for outdoor promotions and trade displays.
On the banks of the magnificent Mary River, The Brolga Riverside Theatre and Convention Centre, in operation from July 2000 has experienced professional staff to help with every need for a modern conference. Technical support includes, sound, lighting, and audio-visual, with administrative space, general assistance and comprehensive catering support right on the premises.
The extensive grounds allow for external displays and entertainment arrangements.
The heritage aspects of the beautiful City of Maryborough and its' near neighbour Hervey Bay are within easy access to magnificent Fraser Island ? the largest sand island in the world ? and will contribute to making your conference a talking point for time to come. Its frequent flights direct from Brisbane airport or easy drive along the Bruce Highway make it accessible, desirable and practicable.
Call us now to discuss your event, and we?ll make it work for you!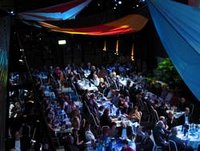 Categories: Attractions
---